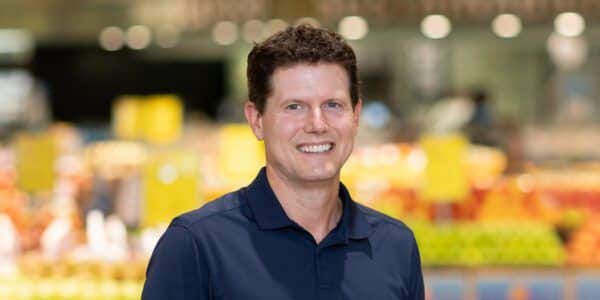 Dear fellow Team Members,
When I joined Whole Foods Market nearly a decade ago, what resonated with me most was that our Purpose to Nourish People and the Planet was not just writing on the wall. It's alive in our stores, embedded in our culture, and it serves as our north star. I am excited and honored to carry that forward as your Chief Executive Officer.
Our Purpose drives how we do business. Little more than 40 years ago, we were one store in Austin, Texas. Today, Whole Foods Market serves communities across the U.S., Canada and the U.K., revolutionizing the way people eat and leading the industry as the first, and only, certified organic national grocer in the U.S. From our unmatched Quality Standards to our commitment to win-win relationships, we have always been more than a grocery store.
On my first day as CEO, I'd like to share a bit about my personal connection to our business. Food has always been a big part of my life. I grew up in rural Wisconsin, the eldest of five children. My father was a cheesemaker, and my siblings and I spent a great deal of time on my grandparents' dairy farm. Most of our family dinners featured vegetables that we grew in our garden. As an adult, one of my favorite things to do — along with visiting my family, running or hiking — is trying unique foods and seeking out new restaurants. Like many Team Members, it was my love of food that helped lead me to a career with Whole Foods Market.
As many of you know, I spent this summer on the Whole Conversations Tour, stopping in every region to listen and learn directly from you. We visited stores, volunteered in our communities and deepened connections with our suppliers and foundations. Side by side, we brainstormed ideas to shape Whole Foods Market's future. Some of the moments in between — conversing during coffee breaks, discussing music on shuttle rides and sharing stories over dinner — were my favorites, because I got to know you better. And it reinforced what a remarkable group of Team Members we have, bound not only by our love of food but our dedication to our Purpose and Core Values. This connection will allow us to chart a future that will be just as profound as our legacy.
So, what does the future for Whole Foods Market look like? We currently have 534 stores with 50 more stores in the pipeline. Our growth is strong, and we have boundless potential. I want you to know that I am dedicated to nurturing the best and most inclusive Team Member experience possible and fostering a store-centric culture. Together, we'll set bold long-term goals and build upon our industry-leading standards. Our partnership with Amazon will also enable us to think long term and continuously raise the bar of retail excellence. We are — and will remain — the best natural and organic shopping destination for our customers.
In early 2023, I will share more of our future strategy, incorporating many ideas from the Whole Conversations Tour. In order for each Team Member to feel connected to our vision, we will launch a roadshow next year, where every single store, facility and office will be visited by a member of the E-Team. Going forward, you can also count on hearing from me regularly as I share my thoughts, challenges and inspirations.
In the spirit of the Whole Foods Market tradition, I'd like to close with an appreciation for everyone who has helped prepare me for this new role. I am forever grateful for your support, mentorship and friendship and, in particular, for John Mackey, whose vision and leadership pioneered the natural and organic food industry, who has taught me so much about leading with purpose and who entrusted me with this opportunity. That younger me, who walked into his first Whole Foods Market store 25 years ago, is living his dream today. I am so excited for the incredible journey that lies ahead for all of us.
To our next chapter,
Jason